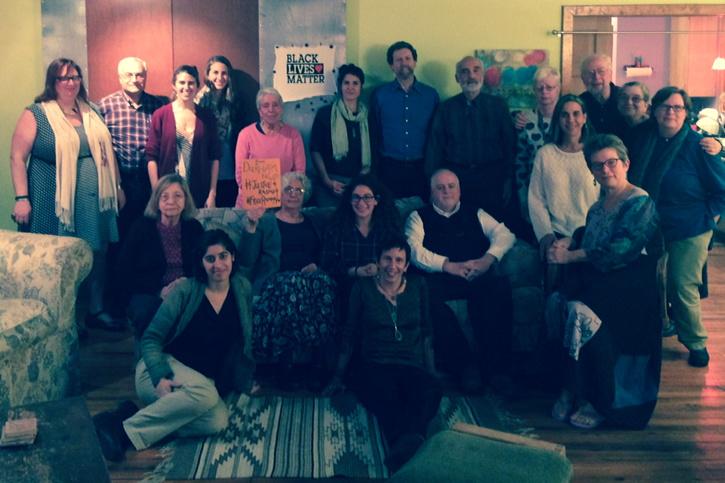 hi there + happy new year to all!
Thanks for coming out to our JVP-NC Chanukkah party in December! We raised $100 for Rasmea Odeh's legal defense fund (read more on her case
here
.) If you'd like to donate, visit 
http://www.stopfbi.net/donate
AND the photo we tweeted out got re-tweeted by the Justice for Rasmea and the US Palestinian Network. See above.
 ***next JVP-NC meeting is Sunday, 1/18 from 4-6 pm at 204 

Rigsbee

 Avenue Unit 201 in downtown Durham***
UPCOMING EVENTS:
***Raleigh Friends Meeting and The Coalition for Peace with Justice invite you to a documentary film screening and discussion.
                    Thursday, January 15th, 2015  @ 7pm
     "At the Gate: Stories of Palestinian Non Violence:" a documentary that shows the largely unreported Palestinian tradition of non-violent resistance to the Occupation.Film producers,  Kathy Kamphoefner and Paul Pierce,  worked for many years with Christian Peacemaker Teams in Hebron, Palestine and served as American Friends Service representatives in Jerusalem, will facilitate discussion following the film.
Experienced trainers of nonviolence, conflict transformation, and human rights observers, they worked regularly with Palestinian and Israeli peace buildersFree and open to the public. Donations appreciated.
Thursday, January 15th @ 7pm,  (6:30 coffee/snacks)
Raleigh Friends Meeting house, 625 Tower Street, Raleigh 27607. Near Cameron Village.  Street parking.
sponsor: Raleigh Friends Meeting
co sponsor: The Coalition for Peace with Justice
questions:  919 914 9881  email  contact@peace-with-justice.org
***from UNC-Students for Justice in Palestine
UNC's MLK Memorial Lecture this year is featuring author and activist Angela Davis, and will be at UNC's Memorial Hall on 
January 19th at 7:30pm
. Her lecture is titled 
Racism, Militarism, Poverty: From Ferguson To Palestine
.
There are other events planned throughout the week centered around honoring MLK's legacy. For more info visit 
diversity.unc.edu/mlk
 .